Holiday driving
There are several days during the year when driving into Boston isn't a good idea. Today is one of them. Actually, it was worth staying out of there all weekend. I was reminded of this as Mrs. Boston Crazy Driving and I navigated our way through city streets to get to the Opera House to see "Wicked", based on the book by Concord-native Gregory Maguire.
Ed. Note:
I will admit that I am a meat-eating, red-blooded American man and I enjoy the musical theater. Anyone got a problem with that? I didn't think so.
Anyway, I digress (The show was great, BTW).
It was definitely a challenge driving into Boston Friday, and I wasn't reminded of the marathon until we cross Dartmouth Street and saw the tent in front of the library. For those wondering why we were in the Back Bay when trying to get into the Theater District (or perhaps the Ladder District if you're a real estate agent), we came in on the parkways via Putterham Circle after supping at Mandarin Gourmet -- great Chinese food.
Sorry, this post is all over the place. Mrs. Boston Crazy Driving was driving and getting aggravated that she kept being cut off. She's no shrinking violet behind the wheel, but I suggested that she fill any open space or there's a 90 percent chance someone else will. This is so on any Friday night, not just tourist weekends.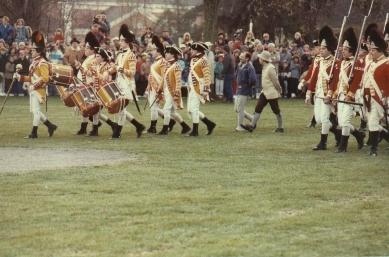 As she was complaining about the traffic, I was doing some figuring in my head. There's about 22,000 runners, and if they each brought 1.5 people on average with them, that means there's about 60,000 extra people in the city. Add to that the tourists who are looking to take in a little Revolutionary War history today at Lexington and Concord, and people unaware of the marathon or Patriots Day who are here for general tourism or college previewing, and I would bet there's probably 80,000 additional people in the city. That's like Newton invading Boston, though I doubt Newton would ever consider anything so silly.
Other days and weekends came to mind when driving into Boston should be avoided. Labor Day is chief among them. The uninitiated who read this should know that Boston has a college or a college dorm on every block, and Labor Day weekend is move-in day for these colleges. In some of the outlying neighborhoods, especially Allston and Brighton, the city streets are lined with U-Hauls and the sidewalks become de facto landfills with all the cast-off furniture that cannot fit in or on a Toyota Corrolla or Honda Civic.
Hundreds of thousands of people, and this isn't an exaggeration, descend on Boston on Independence Day to listen to the Pops concert on the Esplanade and watch the fireworks over the Charles River. The best seats, in my opinion, are my comfy chair, with the TV volume turned down and WGBH radio turned up. That way you get stereo sound, no out-of-towner announcer, and if you have to go to the bathroom, it's a few steps away.
Same goes for First Night. That's amateur night, if you ask me. Stay off the roads and you will be safe. If you want to ring in the new year with a bang, go out in your backyard and light a bottle rocket.
I'm sure there are other times that don't come to mind now. Some are limited to certain neighborhoods. Don't ever expect to find parking in the North End, but don't even think of driving within three blocks during one of the feasts of the saints. These are great celebrations, especially if you're hungry, and they are best reached on foot. Don't drive through Franklin Park during Puerto Rican Pride Day, or through Southie on the Sunday after St. Patrick's Day. Both are great times to be a part of, but not to drive to, or through by mistake (I have made all of these mistakes, BTW).
I would mention that driving anywhere near Downtown Crossing at Christmas should be avoided, but with Filene's closed and Barnes and Noble closing soon, I would guess it will be OK this Christmas.
|